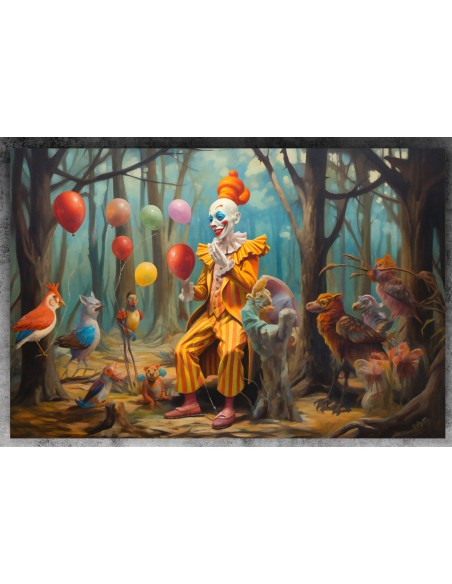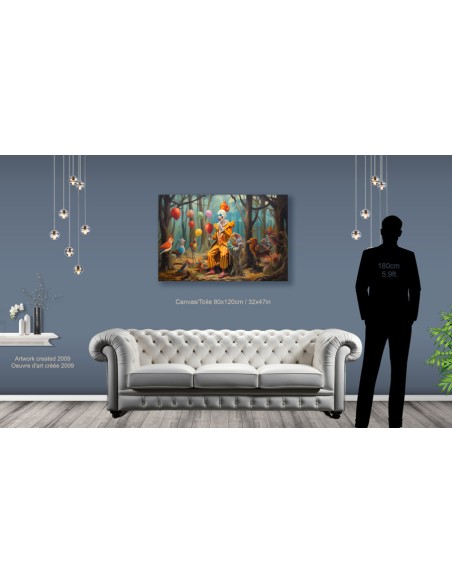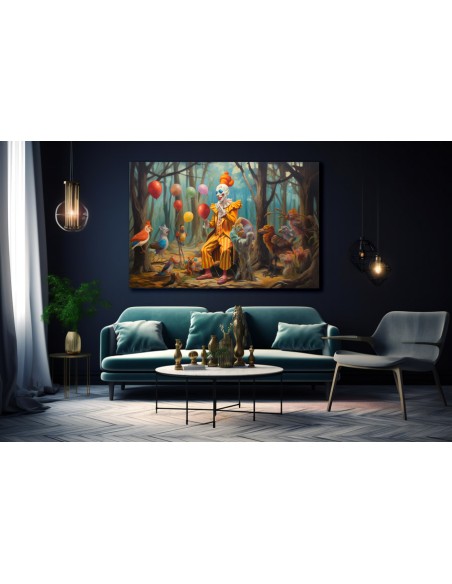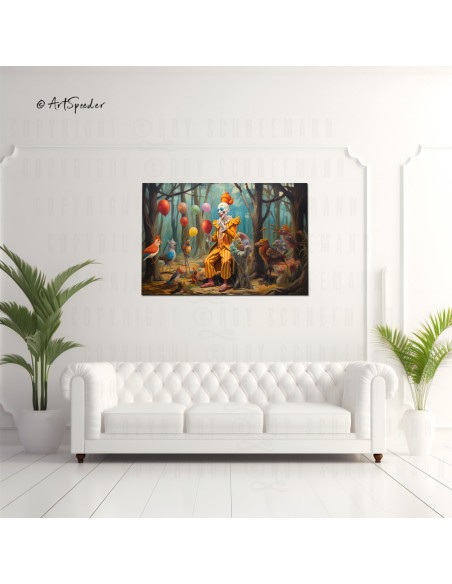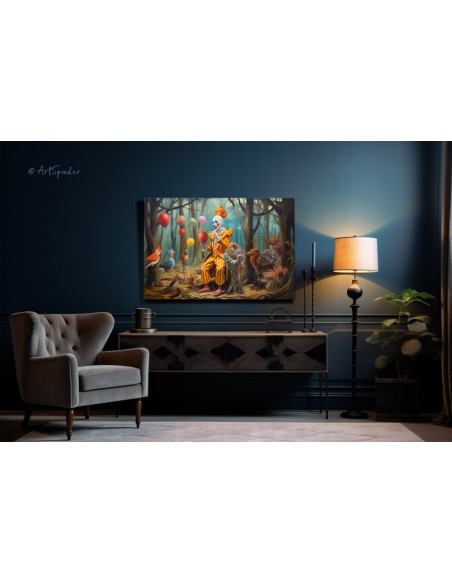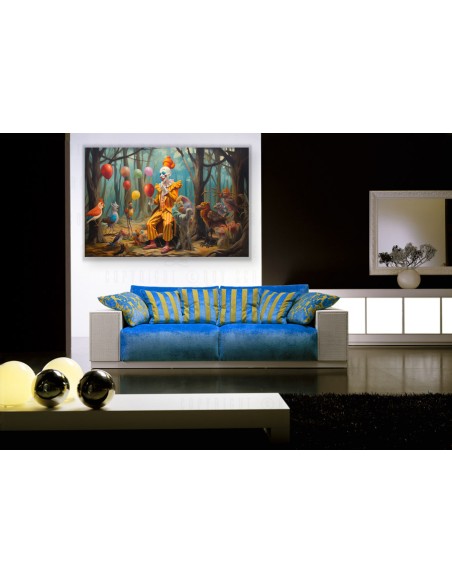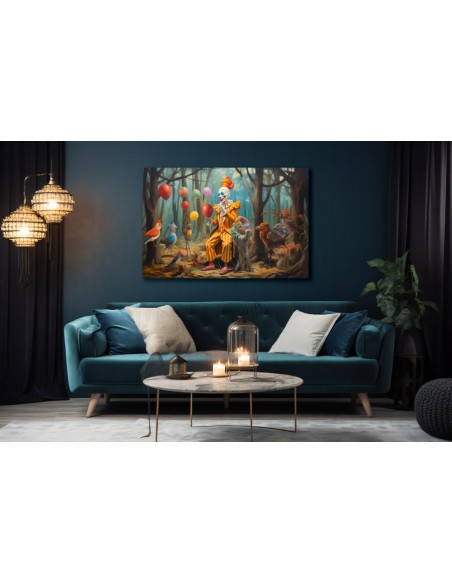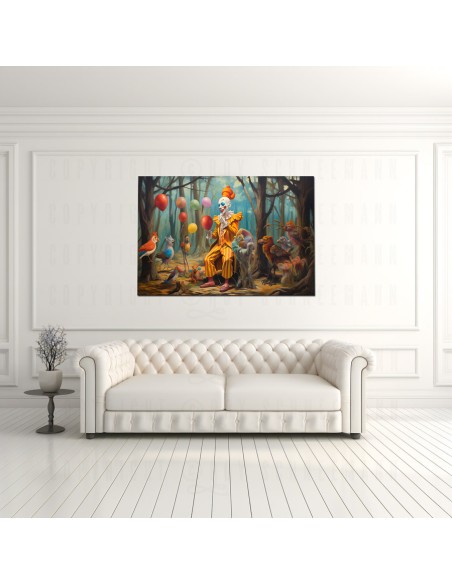 Step into the whimsy and wonder of "Enchanted Forest Revelry," an exclusive limited edition offering where the mystical and the merry converge. Painted with a palette that breathes life into a forest teeming with curiosity, each stroke of my oil painting invites you into a world where imagination reigns supreme
If you like my artwork and have a question, or would like to give me a price offer, just contact me using my contact form. Best regards, Roy
Step into the whimsy and wonder of "Enchanted Forest Revelry," an exclusive limited edition offering where the mystical and the merry converge. Painted with a palette that breathes life into a forest teeming with curiosity, each stroke of my oil painting invites you into a world where imagination reigns supreme.
My artwork, born from the depths of visionary fervor, spans the years from 2000 to 2023, a testament to an odyssey through artistic dimensions that both challenge and enrapture. The canvas, a tableau of vivid hues and playful characters, reflects a narrative of transformation and enchantment that transcends the mundane. The creatures of the forest, anthropomorphized and resplendent, gather around a central figure, a clown who, with a benign smile, seems to be the conductor of an otherworldly orchestra.
The style of this piece nods respectfully to the grandmasters of Surrealism, while infusing elements of Magical Realism. The juxtaposition of a classic clown amongst a congress of fantastical avian companions evokes a sense of both nostalgia and novel excitement. The attention to detail, the rich textures, and the masterful interplay of light and shadow culminate in a piece that is as much an homage to traditional techniques as it is a bold stride into contemporary storytelling.
Each reproduction of "Enchanted Forest Revelry" is a convergence of history's most transformative ideas, channeled through the canvas and delivered in museum-quality. With only 100 editions available, the exclusivity of ownership is as unique as the work itself. Each canvas is lovingly mounted on a 4 cm / 1.5 inches thick, high-quality wooden stretcher frame, echoing the original's grandeur and presence.
As an artist, my commitment to authenticity is unwavering. Thus, with each acquisition, you will receive a certificate confirming your piece's origin and its status within the limited series. In this series, you won't just own a fragment of art; you will possess a slice of an artistic journey.
For the discerning collector, it's a rare opportunity to embrace a slice of a world that is as expansive as it is exclusive. Remember, while there are 195 countries on this globe, only 100 individuals will hold the key to this enchanted realm.
And perhaps the most magical part? This treasure arrives at your door with no delivery fee, regardless of where your abode graces the earth.
In summary, as I share "Enchanted Forest Revelry" with you, I offer not just a visual spectacle but an heirloom that is a gateway to a world both surreal and sublime. A world that promises to change not just walls, but life itself.
PS. For more information about my certificate for my limited editions, see "Info Certificate" on the product page. If you have any questions, don't hesitate to contact me simply through my contact form.
Edition

Limited edition of 100

Shipping

Free Shipping ♥

Category

Visual Artwork

Art Movement or Style

Surrealism
Below is an overview of my used frames in wood and aluminum. Further dimensions are indicated in each case under my offered artwork. If you have any questions, just send me your inquiry via my contact form.
Below is information regarding my certificates for my limited edition reproductions. You can see the number of limited editions in each case under my offered artwork. If you have any questions, just send me your inquiry via my contact form.
Thus, pirated copies are excluded and you can be sure that you have purchased one of my limited edition artworks directly from me.