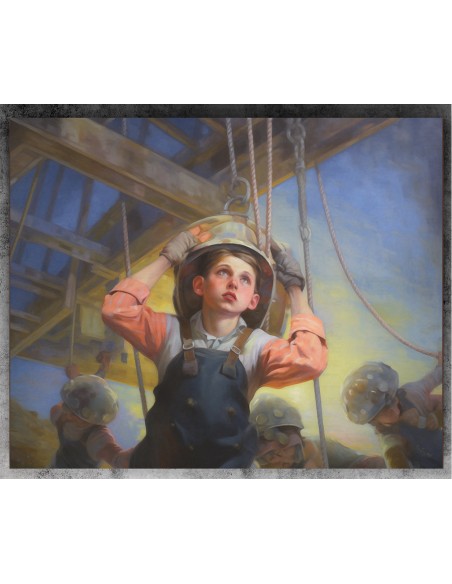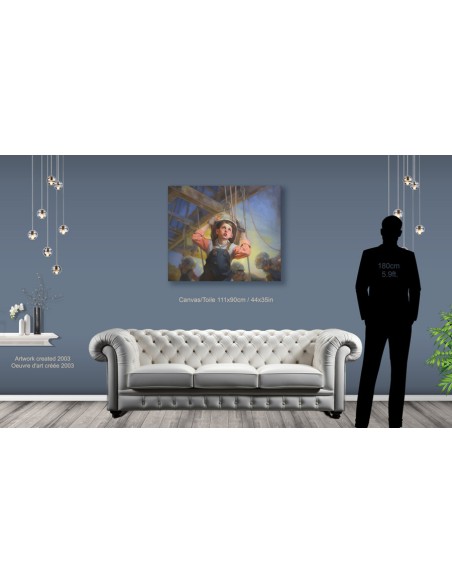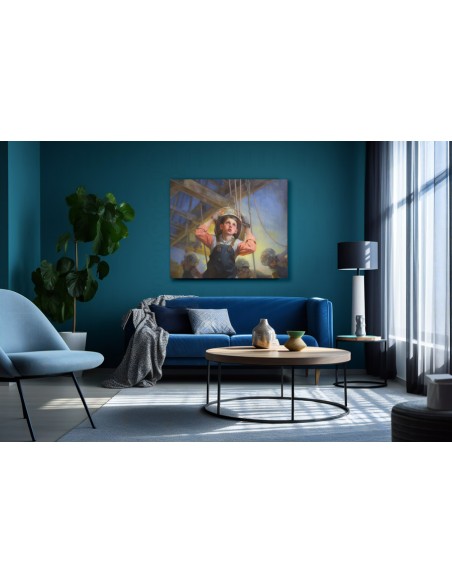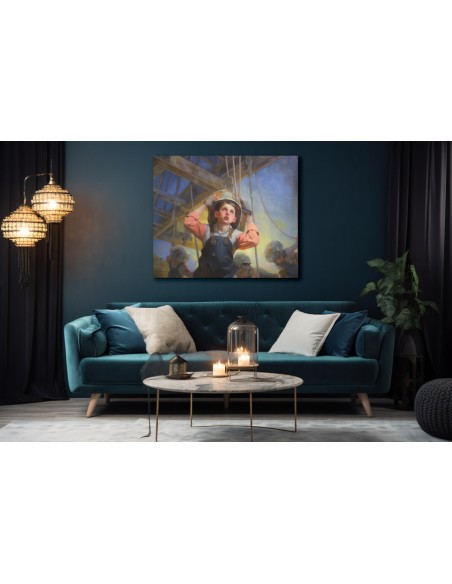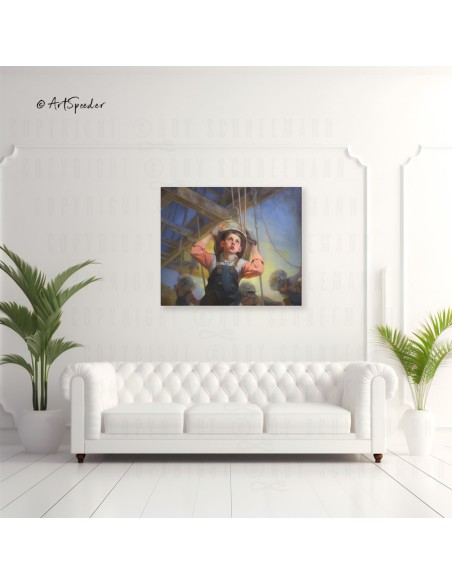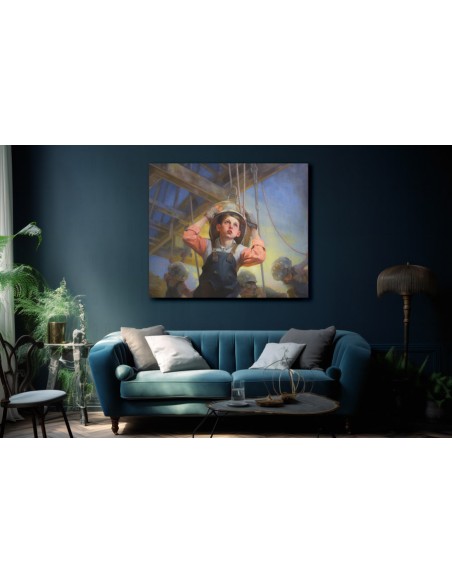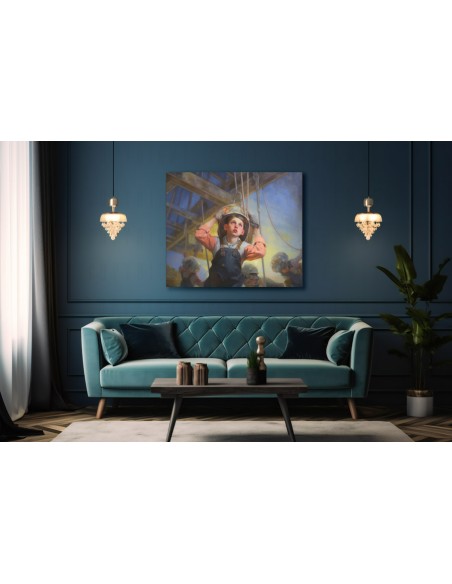 Embark on a visual journey back to the early 20th century with my exclusive limited edition reproduction, "Apprentice Aspirations: Light and Shadow of the Industrial Age." Crafted with the utmost care and attention to detail in 2003, this piece is not merely a reproduction; it is an homage to an era, a narrative captured in oil, and a testament to the enduring human spirit
If you like my artwork and have a question, or would like to give me a price offer, just contact me using my contact form. Best regards, Roy
Embark on a visual journey back to the early 20th century with my exclusive limited edition reproduction, "Apprentice Aspirations: Light and Shadow of the Industrial Age." Crafted with the utmost care and attention to detail in 2003, this piece is not merely a reproduction; it is an homage to an era, a narrative captured in oil, and a testament to the enduring human spirit.
Each brushstroke in this stunning work of art was laid with precision to capture the realism of the time, with a vibrant palette that breathes life into the industrial backdrop and its young protagonist. The complex interplay of light and shadow is not just a visual technique but also a metaphorical canvas illustrating the dichotomy of the Industrial Revolution—its advancement and the toil it demanded.
The painting invites you to ponder the life of the young boy, dressed in the garb of labor, his gaze cast upwards—not in submission, but in contemplation and determination. The heavy gloves, the protective helmet—all are rendered in exquisite detail, transporting the viewer to the clangor and smoke of an age that built the foundations of the modern world.
Through this work, I aim to bring forth an experience that transcends time, an artwork where each of the 100 exclusive reproductions is a celebration of history, craftsmanship, and artistry. Owning this piece is not just an acquisition; it's an inheritance of cultural storytelling and aesthetic excellence. The scene does not just reflect a historical past; it mirrors the aspirations of anyone who has ever dared to dream amidst the structures that confine us.
I am proud to offer this limited edition reproduction on canvas in the original size, presented on a 4 cm / 1.5 inches high-quality wooden stretcher frame that echoes the sturdiness of the industrial beams depicted within the painting. And with every purchase, I provide a certificate of authenticity to affirm your ownership of a piece of history and art. To ensure that this exclusive experience is within your reach, I am offering this piece at an attractive price, with complimentary delivery to your doorstep, no matter where you are among the 195 countries worldwide.
In summary, as the artist behind "Apprentice Aspirations," I am not simply offering a reproduction. I am sharing a slice of history, an artistic endeavor that intertwines realism with symbolism, and a chance to own a piece of my relentless pursuit of portraying life and hope through art.
PS. For more information about my certificate for my limited editions, see "Info Certificate" on the product page. If you have any questions, don't hesitate to contact me simply through my contact form.
Edition

Limited edition of 100

Shipping

Free Shipping ♥

Category

Visual Artwork

Art Movement or Style

Realism
Symbolism
Below is an overview of my used frames in wood and aluminum. Further dimensions are indicated in each case under my offered artwork. If you have any questions, just send me your inquiry via my contact form.
Below is information regarding my certificates for my limited edition reproductions. You can see the number of limited editions in each case under my offered artwork. If you have any questions, just send me your inquiry via my contact form.
Thus, pirated copies are excluded and you can be sure that you have purchased one of my limited edition artworks directly from me.